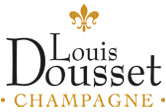 ASSEMBLAGE
ASSEMBLAGE
WINEMAKING

THE VINEYARDS

Terroirs: Verzenay, Mailly Champagne, Verzy, Sillery
Average ages of vines: 52 years
Pruning: Cordon de Royat and Chablis
Sustainable viticulture

THE WINE


Harvest: 2008
Volume: Approx. 60 000 botls/year
Vinification: Enamelled steel vats
Blend:
Pinot Noir 50 % . Chardonnay 50 % Reserve wines: 7 %
Without malolactic: 15 %
Bottled: Juin 2011
Disgorged: février 2014
Dosage: 7,8 g/litre
TASTING NOTES
ALL THE HALLMARKS OF THE FINEST BLENDED CHAMPAGNES: COMPLEX AROMAS, GREAT BALANCE AND BEAUTIFULLY SOFT EFFERVESCENCE.
Appearence, a tempting golden colour with sustained and steady effervescence.
Nose, a really spring-like bouquet with delicate aromas of peony and jasmine, a fresh note of almonds and the gorgeous scent of fresh bread. The superb balance is a sign not only of the quality of the terroir, but also of extended ageing in the cellars.
Palate, a brisk attack before the smoothness of the wine comes through. Good balance of freshness and body, soft effervescence on the tongue, and a modest dosage all combine to produce a beautifully silky texture. The same aromas that were evident on the nose are reflected on the palate, plus a touch of minerality on the finish that is both pleasantly fresh and satisfyingly full.
Service, serve at 10°C (500 F) Ideal as an aperitif but also an excellent match with shellfish and grilled fish.
AWARDS
Silver Medal at Vinalies 2015
Gilbert Gaillard Gold 2014
Decanter Bronze 2013
Silver Medal at Vinalies 2009