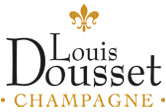 PLOTS OF LAND
THE QUEST FOR BALANCE
The average age of our vines is 46 years with the oldest being over 80 years old; this means that the 8 hectares belonging to Champagne Louis Dousset constitute one of the most exceptional estates in the whole of the Champagne region.
Our quest for excellence starts in the vineyard: every furrow and every single plant receives the individual attention it needs and we take special care to maintain the health of the soil.
In our working practices, whether it be in the vineyard, or in the winery, we seek a balance between tradition and modern technology as we work, progressively, towards ever more bio-dynamic methods of viticulture.
We are constantly striving to find the perfect blend and to give you ever more enjoyment.