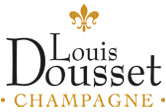 IN THE WINERY
IN THE WINERY
As our œnologist and head of the House, Jean-Roch Floquet, grandson of Louis Dousset, places particular importance on the ageing of our wines. Time is our most precious commodity; it takes our passion and care and transforms them into champagnes that are not simply pleasant to drink, but wines that are worthy to grace the tables of the most renowned restaurants and the finest wines lists.
The simple, natural energy of the wines allied with the complexity of the blending across the entire range give Champagne Louis Dousset a unique character, marrying elegance and purity, strength and subtlety, finesse and integrity.
A world of sensations to discover and enjoy on any occasion.