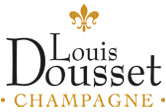 THE ART OF ELABORATION
SEIZING THE MOMENT AND MASTERING TIME
A successful harvest depends on perfect timing. It's a matter of choosing just the right moment to start picking: the precise moment when there's an ideal natural balance between the sugar and acidity in each different plot. Should we pick early in the morning, or perhaps at night?  What's the perfect time to ensure that the grapes are still fresh and intensely aromatic and also have just the right amount of sugar to be pressed?
It takes 6 months following pressing for the grape juice to go through alcoholic fermentation in temperature-controlled stainless-steel vats before being ready to be blended, bottled and placed in our cellars. The blending is managed by Jean-Roch Floquet and is a constant quest for wines that deliver true character and glorious aromas. There are other challenges too: maintaining the distinctive style of the House by careful blending of wines from the most recent harvest with older, reserve wines, balancing Chardonnay and Pinot Noir, finding and controlling the right balance between freshness and body, elegance and strength, complexity and finesse and above all…
Ensuring that every glass of Champagne Louis Dousset gives you the same high quality and enjoyment you expect.