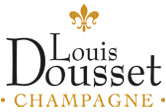 HOME SPIRIT
A SIGNATURE STYLE
Since 1844, our aim at the House of Louis Dousset has been to use our wonderful Grand Cru terroir and the exceptional exposure of the vineyards to enhance what Nature provides. Meticulous attention to detail in the vineyard is the natural application of this philosophy whilst careful blending and patience during the ageing of the wines in the cellars are its natural extension.
The result is a range of harmonious champagnes from the House of Louis Dousset for you to enjoy whatever the occasion you want to celebrate. Champagnes to enjoy again and again.
Champagnes Louis Dousset, the embodiment of terroir.